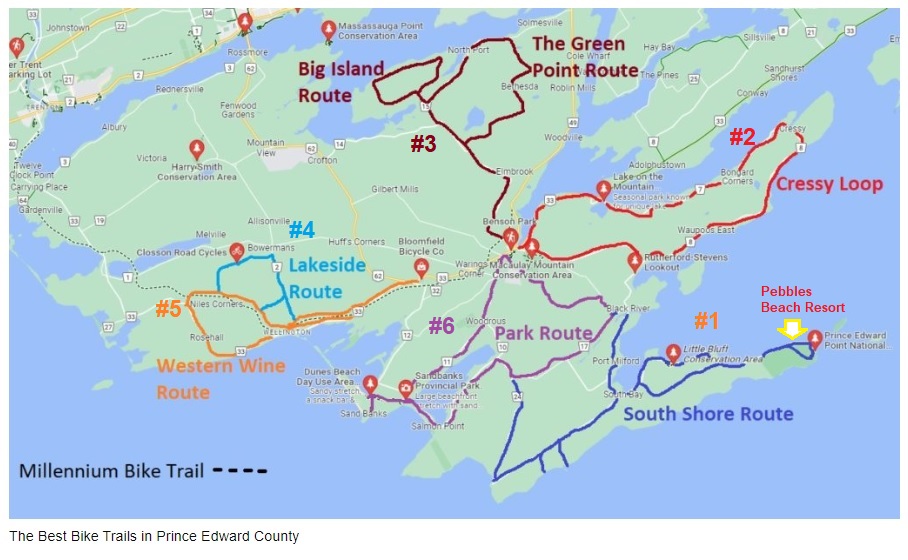 Learn more about top Bike Trails in Prince Edward County. The County is well-known to cyclists. Its rural roads, gentle geography and pastoral settings are perfect for recreational cycling. Popular routes include wine country and amazing waterside vistas.
Weekend Package
Pebbles has complimentary bikes for our guests or you can rent bikes at Bloomfield Bicycle Company, County Bike Rentals, Ideal Bike, Closson Road Cycles, East Lake Electric Bike Rentals & Sales, and Pedego Electric Bikes.
Check-in: Friday after 4pm
Beach Firepit Social 7pm Onwards
Meet other cycling enthusiasts
Plan your weekend cycling routes
Rain option: social at Club House
Saturday
Presentation on cycling routes, Q&A
Beach BBQ social
Checkout Sunday before 10am
---
---
Bike Routes
Route #1: South Shore to Pebbles Beach Resort
Not all routes are circuitous; some just go there and come back. Prince Edward County is famous for its many points and headlands jutting into surrounding waters. Perhaps the most famous is Point Traverse in the South Shore of the County. Notorious for shipwrecks a century ago, it is now a must-see for birders who visit the Prince Edward Point Bird Observatory. Along the way, Little Bluff Conservation Area features a 20 meter high limestone bluff and panoramic views of Prince Edward Bay, but if water snakes aren't your thing, you may want to skip this stop! Point Petre (that's pronounced "Peter") is another popular destination for cyclists, known for its quiet beauty and flat limestone ledge.
---
Route # 2: Cressy Loop
This 60 km loop circles from Picton along Picton Bay towards the Glenora Ferry. At the top of the hill, Lake on the Mountain Provincial Park has a spectacular view across Adolphus Reach to the ferry dock on the other side. The Inn or the Miller House at Lake on the Mountain Resort can provide sustenance if you need a break from cycling en route. The path continues above the narrow waters of the Reach, across the most easterly point of The County at Cressy and turns back west following the shore of Prince Edward Bay through Waupoos and past County Cider, Waupoos Winery and Waupoos Pub. The return into Picton features woods, meadows and farm fields — classic County countryside. When you're out in this direction, stop in at Schoolhouse 77, a restored one-room schoolhouse from circa 1875 where you'll find cold drinks, snacks and a "corner-store corner" for those emergency needs. There's a bike rack and Schoolhouse 77 provides free use of their tire pumps and basic repair tools. You'll also find picnic tables, free water bottle refills and a dog-friendly space!
---
Route # 3: Big Island Route
This 55 km local favourite is said to be a "cyclist's dream route through rolling countryside." Big Island itself features 8 km of pristine Bay of Quinte shoreline. In the spring, much of the route is lined with exquisite-smelling lilacs and for the past few years has been part of the route for the Lilac Ride. There are few tourist sights on this route to distract from the pastoral setting. The Green Point Route, traveling further into Sophiasburgh and over to Three Dog Winery, can be added for another 30 km of Bay of Quinte shoreline and rural roads.
---
Route #4: Lakeside Route
his hilly 40 km route goes deep into the heart of wine country. In addition to a dozen wineries and vineyards – including Hinterland, Closson Chase, Lacey Estates, Gravel Hill, Broken Stone, Old Third, Hillier Creek, Harwood and Redtail – you can cycle to SHED Chetwyn Farms and get up close and personal with the alpacas, or take in the delightful aromas at PEC Lavender Farm. At the halfway mark at Consecon, Tabersnack offers a poutine bonanza and fresh, simple and tasty food. The serene shore of Lake Consecon completes the route.
---
Route #5: Western Wine Route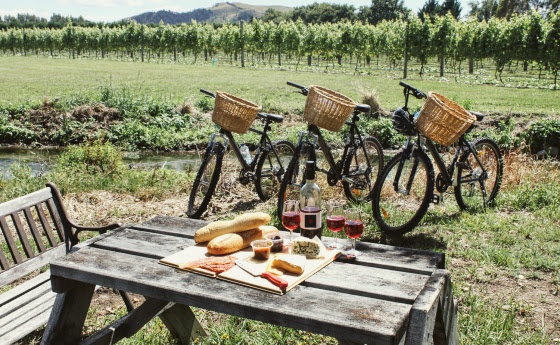 The flat terrain of this 40 km route is excellent for novice cyclists. Fuel up in Bloomfield with breakfast at the The Saylor House Cafe or Bloomfield Public House. Cycling counterclockwise, this route will take you past several County wineries, including Keint-He, By Chadsey's Cairns, Sandbanks Winery, Rosehall Run, Casa Dea, Domaine Darius, Sugarbush and the added bonus of the local distillery, Kinsip. Stop in for a rest and refreshment. (Just remember to keep alternating between wine and water!) The return to Bloomfield features the spectacular vistas of the famous sand dunes, and the peaceful shoreline of West Lake.
---
Route # 6: Park Route
If you are visiting Sandbanks Provincial Park, cycling this 65 km route is a perfect way to safely see the park, the surrounding countryside, and the quiet ease of East Lake. In addition to the park, the backroads of this route reach as far as the old Camp Picton wartime air base, and the delightful hamlet of Milford. And of course, a stop at Black River Cheese is mandatory. Lilacs, sugar maples and asparagus are abundant on this route.
---
Mountain Biking
Hit the 25km network of trails that spider web through Macaulay Mountain Conservation Area (the only public mountain biking in PEC) on your mountain bike for a real rush. The trail savvy folks at Bloomfield Bicycle Company keep a close eye on the trail and know its routes well, so save or print a copy of their map above before you head out. These are shared trails with walkers so be mindful around corners.
---
BIKE ROUTE MAPS
Useful Links